2 Monitors vs 3 Monitors: Which Is Best For Productivity?
If you buy something using the retail links in our articles, sometimes we earn a small affiliate commission. This does not impact the products we recommend.
Big business started implementing workstations with multiple monitors long ago.
Well before a time when the same setup became affordable to those of us who work from a home office. And they did so with good reason!
The efficiencies of working from more than one screen have been documented time and again. 
From the University of Utah study that showed using 2 x 20" monitors improved productivity by 40% vs using a single 18" screen. 
And that there was even a gain in productivity to be had by using multiple monitors vs a single monitor when the total area of the displays were equal.
For many jobs the additional screen space offered by multiple monitors is essential. 
Whilst this article explores how working with a triple monitor setup will improve productivity. If you want to also learn what effect working from a larger monitor has upon productivity, check out our full guide here. 
Do more monitors increase productivity?
It's worth reminding ourselves why multi monitor setups provide such a boost in productivity:
One of the most obvious benefits is the fact that you are able to

view more than one window or browser tab at any one time

. The need to minimise windows is replaced with a quick glance to the side. This not only helps save time but also allows concentration to be maintained for longer. If you are working from home as part of a remote team this means better visibility of incoming communications or changes in workflows as displayed on workplace chat apps such as Slack or Microsoft Teams. 

Knock on beneficial effects of being able to concentrate better helped both the individual worker and the wider team. Multiple monitors were proven to help

reduce the frequency of errors

, which in turn caused an increase in happiness and satisfaction amongst workers.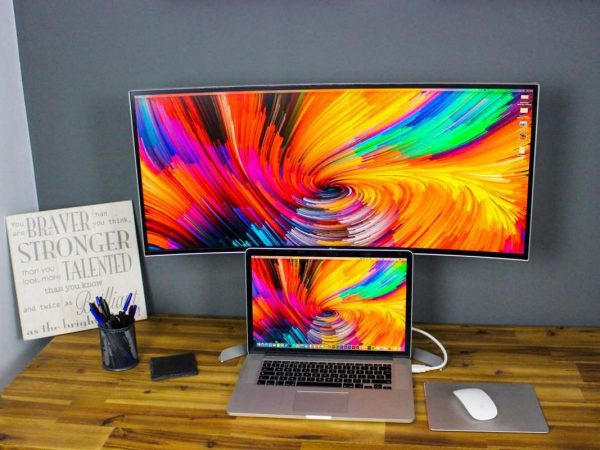 Two or three monitors then?
Multiple monitors is a good thing. That fact aside we wanted to explore whether there is a sweet spot between the number of monitors in a desktop set-up and the productivity output. 
If I buy a third monitor for work is it worth the investment? And can I expect for it to pay for itself in a reasonable amount of time? 
A study funded by Fujitsu Siemens computers found that by incorporating 3 monitors into your workplace you can expect to be an incredible 35.5% more productive than when using a single screen. This was 10% higher than the score attained by participants operating a dual screen setup. 
Even if you are earning a side income on Fiverr and value your time as $10 per hour it won't take too long before the time saved by investing in a third monitor will begin to pay off. 
For home workers here are a couple of tasks where a triple monitor setup is especially advantageous.
Video editing
If you're already a content producer you know just how much of a challenge it can be to maintain a flow state whilst navigating between the tabs that are essential. 
With three monitors you gain the freedom of devoting one monitor to each of the preview screen, the timeline and any effects you work with. 
Having monitors that can switch up between landscape and portrait will also allow better performance at tasks that benefit from different aspects.
Day trading
Some of the factors influencing the argument for a second monitor can also be applied to a triple monitor setup. Time saved by not having to minimise windows for example is directly related to the complexity of work tasks being undertaken. 
In the world of day trading, traders attest that the ability to react quickly to changes in the market.
Having that split second advantage to react quicker than your competitors can make all the difference between a profit and a loss. Especially if you find yourself opening and closing positions several times each day. 
Often the foresight into a pattern forming can only be seen by studying the charts, and that's why the rule of the more monitors the better seems to apply here. 
What are the downsides of using three screens?
Risks to wellbeing
A triple monitor setup with screens set to landscape mode can present an ergonomic challenge. 
Viewing multiple screens requires more frequent neck rotations which in turn can result in discomfort to the shoulders and back. The solution? Position yourself further away from the monitors so that you can look at all screens easily and reduce the severity of the angle of rotation. Alternatively use a monitor mount to fine tune how the screens are assembled. 
Moreover a triple monitor setup can quickly become a source of stress if it tempts you to addressing too many tasks at any one time.
Cost
This used to be an entirely legitimate reason for being unable to establish a triple monitor set-up.
A look into old online listings show even 17" monitors used to cost upwards of $600 in the year 2000. 
Nowadays however some of the best monitors for building a multi-screen setup can be purchased for as little as $200. The 28" BenQ EL2870U for example is only around $300 and with a 4K resolution and thousands of positive reviews has proven itself to be a fan favourite for inclusion in triple monitor setups. 
It is of course entirely possible to snap several windows within a single monitor, thus giving the appearance of having multiple monitors. The downside here is that the monitor must be large enough in the first place to allow text to be legible without straining your eyes.
Do I need a powerful computer or laptop to run 3 screens?
The graphics card you have on board your machine does need to be capable of supporting 3 monitors. 
This is usually a quick thing to check as the number of outputs on your machine (USB-C, HDMI, DVI, Displayport etc) normally correlates with the capabilities of your graphics card. If your computer is less than 4 years old typically it should be equipped to undertake the task of displaying to 3 screens.
If you want to conduct a more thorough check, Intel lists its graphics cards and chipsets that support three independent displays. You can also check your graphics card by opening the start menu, typing Run, then entering dxdiag.
If you have access to a single display port on both your computer and monitors it is possible to 'daisy chain' the devices in series. 
It's also possible to grab inexpensive adaptors that enable a non-display port connection such HDMI to be converted. 
Sitting cross legged at your office desk is said to improve posture and develop healthy habits. Simple enough in theory but what are the negatives?
Read More
If you're looking for a little help to focus more whilst working from home this list of productivity tools is for you.
Read More