The Best Home Office Colors For Max Productivity
If you buy something using the retail links in our articles, sometimes we earn a small affiliate commission. This does not impact the products we recommend.
Question…. Do you think colors cause us to react psychologically? 
 Typically when answering this question each of us have preconceived ideas that  colors do  to one degree or another evoke certain emotional or psychological reactions.
Red promotes arousal (think red roses and valentine's day), blue tones are calming….that sort of thing.
Until now I hadn't really thought to challenge whether these general assumptions were in fact true, despite knowing that advertisers place a lot of stock in creating the desired first impression of their business through color. 
If they were, could colors be put to work, so to speak, to put us in the best frame of mind for any given task?
Color is an important focal point to any visual landscape sure, however when that landscape is as tiny as a small home office, and that home office is required to help generate an income, which colors get used should be afforded some serious consideration.
So the question I wanted to look into today was 'what are the best office colors for productivity?' 
Colors have been proven to impact our mood and state of mind so definitely have a bearing upon our productivity. Using the right color, and the correct selection and placement can seriously affect feelings, attention, and behavior. Unfortunately searches online were not as helpful or conclusive when attempting to define which color improves productivity the most.
Different scientific studies have even found conflicting answers to this query  stating that the same color can provoke opposite emotional states (i.e. concentration vs distraction; avoidance vs stimulation). All very confusing. 
Below is a selection of office decor colors that help determine what are best home office colors for you and your working life.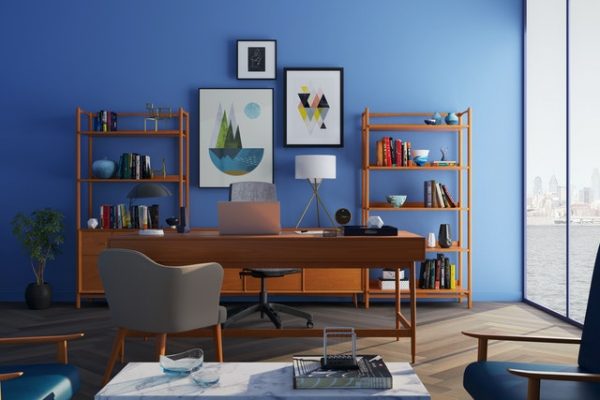 Red exudes activity, strength, excitement and stimulation. Of all the color schemes tested, red appeared to come with the most "warning signs".
An appropriate analogy as the color is regularly associated with avoidance behaviour.
In an experiment where red office decor was compared directly against blue office decor, study participants actually reported higher stress and anxiety levels in the red office.
Design Tip
Go easy on the use of red if you plan on spending a great deal of time in your home office. An accessory such as this red chair from EUCO allows the color to be included without being dominating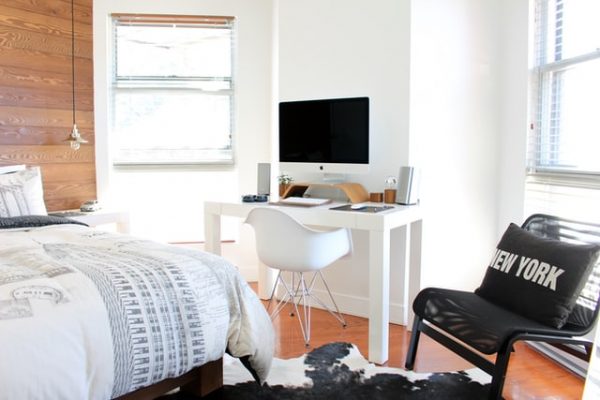 The color that provides the most productivity benefits for you appears to depend on a few factors. Namely the description of the task being undertaken, the work environment, your cultural heritage and personal preferences. 
The good news is that regardless of your home office decor it appears simply by having ownership of a space and the ability to implement whatever color you choose will place you  ahead of the majority of workers when it comes to being productive
Home Office Design and Decor
Use these tips to set up a productive home office regardless of how little space you have to use.
Read More »
Home Office Design and Decor
Art in the work space boosts production by instilling a sense of pride in the workforce, inspiring employees, and uniting with community and culture.
Read More »