The Best Rollerblade Wheels For A Smooth Gliding Office Chair
If you buy something using the retail links in our articles, sometimes we earn a small affiliate commission. This does not impact the products we recommend.
Traditional nylon casters are usually a standard feature on an office chair because they are hard wearing and durable. However, they do have their downsides and can cause issues such as pulled threads or damage when used upon long carpet or hardwood flooring respectively. 
In deep pile carpet or rugs the nylon casters also come up against resistance, making the chair difficult to maneuver.
On hardwood floors there's no issue with resistance but the noise created by a chair that trundles about on equally hard casters can be annoyingly loud as well as disruptive to co-workers.
On all types of flooring the impact of moving a heavy load (you or I sitting on a chair) in a confined space over and over again can cause long lasting damage unless protection is provided by a floor mat. 
There is however a better option, and that's the easy to fit skate wheel casters. 
The advantages of using a caster that is a skate wheel design are that they reduce wear and tear from being sustained to carpet and flooring, as well as make the chair easier and quieter to move around the office.
Skate wheel casters differ from nylon casters in that they are made from softer polyurethane, have a narrower point of contact with the ground and are typically taller in design.
We switched our standard nylon casters for Dr.Luck casters, and we wish we'd done so far sooner. Here's why. 
Dr.Luck 3" Office Chair Caster Wheels With Metal Brake
Makes the chair easy to move across carpets and rugs

The polyurethane is far quieter when moving around on hard surfaces

Less impactful on wooden floors + carpet

Includes brakes to hold the chair static

Can take a load capacity of up to 440lbs (200kg)
What size caster does your office chair use?
The size of office chair casters are measured and described by the dimensions of their stem. This is the part of the caster that attaches it to frame of the chair.
The most common sized stem found on chairs is 7/16″ in width by 7/8″. 
Tip: If you own an IKEA office chair the stem on the casters are always 3/8″ (10mm) in width. Check the stem dimensions on the listing before purchasing as replacement IKEA casters are a little more hard to come by.
If you're unsure what sized casters your office chair uses you can easily pop one out and measure it up by following the diagram below.
Best Overall
Dr.Luck 3" Office Chair Caster Wheels With Metal Brake
Dr.Luck 3 Inch Office Chair Caster Wheels With Metal Brake
★SAFE FOR ALL FLOORS - Stop damaging your expensive hard wood floors. Many chair wheels use cheap, low quality materials that destroy your flooring. We don't. Encased with soft, polyurethane material our rollerblade style wheels are guaranteed not to scratch or leave marks on any surface. So feel free to finally toss that old computer chair floor mat!
★UNIVERSAL STEM SIZE - Our caster stem will fit 99% of all standard office chairs sold in the USA; (7/16" wide x 7/8" tall) or (11mm x 22mm); With metal brake
★SMOOTH & QUIET ROLLING - Our precision ball bearings combined with vibration reducing polyurethane tires will give you a smooth and silent roll. They roll amazingly on hardwood floors, carpet, tile, concrete, stone or vinyl.
★VERY EASY TO INSTALL - No tools required; Pull out your old office chair casters and push in your new wheels until stem is firmly seated and secure;
If your carpet is anything other than low profile it can become a bit of an effort to move any chair around on traditional nylon casters. 
This is because the nylon design retains a large surface area in contact with the ground that creates resistance when you want to roll. You'll still be able to move the chair but….. it's awkward, and brings none of the pleasure obtained when gliding freely whilst sitting down.
The ball bearings in skate style wheels combined with polyurethane make moving a chair on carpet far easier, and quieter. 
Our own Amazon Basics chair was retrofitted with a set of Dr.Luck wheels recently and we're now enjoying the freedom of movement so much now we're starting to feel a little silly that the switch to skate casters wasn't made a long time ago.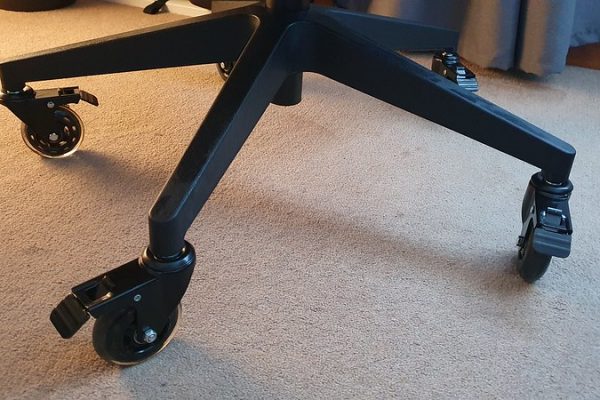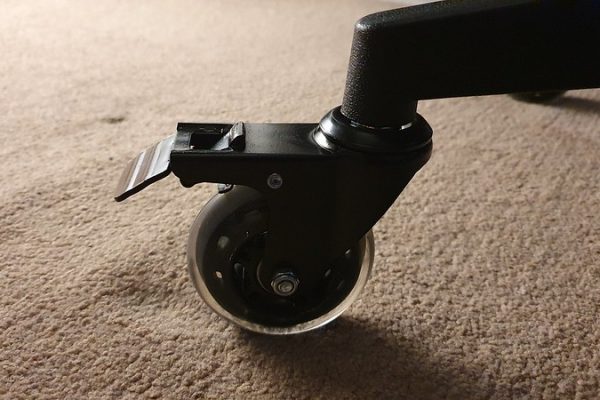 Best Budget
WASJOYE Heavy Duty Office Chair Wheels
WASJOYE Heavy Duty Office Chair Wheels
【Smooth and Quiet Rolling Swiveling】 high precision ball bearings in the caster raceway and axle provide ultra smooth, quiet rolling motion without producing any squeaky noises that will distract you.
【Better Protect Your Floor】: features smooth rounded polyurethane wheel treads that protect all types of flooring like carpet, hardwood, laminate, tile, slate and more; leave no scratches, scuffs or
【Heavy Duty Durability】each heavy-duty chair cater are made from industrial-grade steel, and durable polyurethane chair casters, to withstand a load up to 132 lbs (60 Kg); total load capacity:660 lbs
【Install in 2 Seconds】: no tools needed, simply pull off the old casters and snap in the new casters using your hands only, then you're ready to roll. These WASJOYE casters fit 99% office chair models
Having researched the market before buying our own set, we've found there isn't a gigantic difference between the design of Premium skate wheel casters and Budget ones such as the Wasjoye. 
In fact, in spite of the low cost, the Wasjoye wheels are so well constructed they're actually rated as being able to support the most weight out of our three test sets.  
Minimalist in design with smooth ball bearings, these wheels will hold secure and steadfast for as many glides and spins as you can stomach. If not, take them up on their offer of a money-back guarantee or a replacement set.  
Best Designed
OPTTIKO IKEA Chair Ready Casters
OPTTICO IKEA Chair Ready Casters
[STOP DAMAGING YOUR FLOORS] - 100% safe on any hard surface. Avoid costly floor repairs with our premium soft rubber replacement chair wheels. Our casters have an extra-thick polyurethane layer, and they will not scratch, dent or leave any marks. Perfect for wood, laminate, ceramic, terracotta floors. A great substitute for an office floor protecting chair mat.
[STOP DAMAGING YOUR FLOORS] - 100% safe on any hard surface. Avoid costly floor repairs with our premium soft rubber replacement chair wheels. Our casters have an extra-thick polyurethane layer, and they will not scratch, dent or leave any marks. Perfect for wood, laminate, ceramic, terracotta floors. A great substitute for an office floor protecting chair mat.
[COOL - MODERN - ATTRACTIVE] - These gorgeous black casters with black polyurethane wheels will turn your favorite home office chair into attractive, modern furniture. Our replacement casters wheels are the absolute best upgrade among many office chair accessories
[EASY TO INSTALL] - 5 min installation. IKEA size stem of 10mm (13/32") diameter x 22mm (7/8") length with our NEW and IMPROVED c-ring grip will fit the biggest assortment of IKEA office chairs: Markus, Jarvfjallet, Renberget, Flintan, Fjallberget, Hattefjall. WARNING: THESE CASTERS FIT IKEA CHAIRS ONLY!
IKEA might be the first place you think about when it comes to office chairs. It certainly was when we were shopping around for a new addition to the home office.
Whilst rightfully popular, having built a reputation on  safe and reliable furniture, the aftermarket upgrades available for IKEA products are few and far between.
For office chairs, this means IKEA chairs cannot be retrofitted with the majority of skate wheel casters on the market. Chiefly because the caster stem width on IKEA chairs is a unique design.
Fortunately, Clever Casters have cottoned onto a gap in the market and made a well reviewed set that have the exact dimensions needed to slot right into an IKEA office chair frame. 
Bravo!
How do you replace office chair casters?
Replacing the casters on your office chair is much easier than you might expect. The bayonet fitment has a grip ring that is designed to release from the chair base with a simple pulling motion, no tools required.
To fit the replacement casters, simply slot them into place. For troubleshooting, or if you prefer a visual guide on how this is down, the below video 
With so many office upgrades based around tech these days it's refreshing to know that a simple low cost  solution exists to make your working day that bit easier. 
The money you save by not needing to buy a chair mat  can instead be used to pick up a long lasting set of skate wheel casters that are fitted from box to chair in less than a few minutes, reduce noise, and protect whatever your floor surface may be.
Plus, gliding around effortlessly on skate wheel casters is just a great way to spend the working day!
Get some.
Compare the features and prices of our top picks for the best monitor arms for heavy or wide monitors with this round up review.
Read More
To facilitate strain free work, left-handers should consider adopting an ergonomic mouse specifically designed for lefties. Here's a few to save you time.
Read More