How To Make Money On Upwork (A Helpful Guide)
If you buy something using the retail links in our articles, sometimes we earn a small affiliate commission. This does not impact the products we recommend.
Upwork is a great place for skilled workers and businesses to meet online.
Many established Upworkers have achieved great success on the platform, having evolved from being commissioned for the odd job here and there to earning above average incomes working a schedule that suits their lifestyle. 
It also functions fantastically well as a means to earn a side income in your free time.
If you can create demand for whatever skills you have, the rewards for establishing an effective Upwork profile can go well beyond being purely monetary. 
However for beginners getting started on Upwork does have the potential to feel a little daunting.
First off you'll be required to put time into building an engaging profile that fully conveys your skills and strengths. 
Once that's complete you'll then be released into the marketplace to bid for work against many established freelancers (in total over 12 million genuine freelancers have created Upwork profiles). 
Achieving success in this environment sounds difficult, however whilst its more than a matter of luck rest assured even with no formal experience it is possible to earn an income on Upwork whilst working from home.  
Inspired by an article produced by Upwork in 2018, this guide will help you set up your Upwork profile and share some tips from established Upworkers.
Let's set up your side hustle.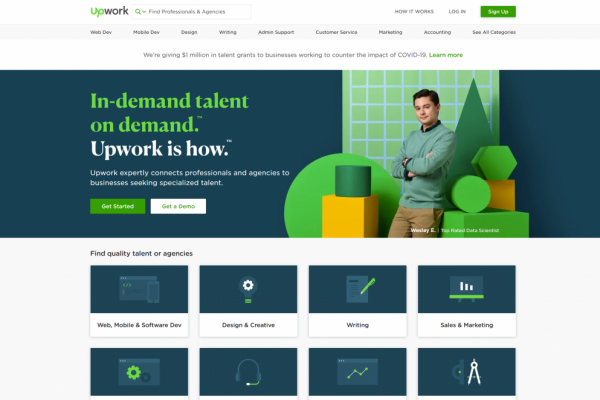 Upwork is a marketplace for remote workers to find paid jobs in fields such as graphic design, web development, content writing, digital marketing, and more. 
Having formed after a rebrand of Elance in 2015, Upwork has now facilitated services for over 5 million businesses worldwide and continues to post more than 3 million jobs annually. That quantity of work equates to over 1 billion USD of wages each year.. 
For freelancers, this means ample opportunities to build experience, work with well-known companies and develop relationships that enable repeat business. 
The appeal for companies is that they get a huge choice of skilled professionals to work with upon whatever contract they are happy offering. 
This is far more appealing than going through the expensive process of hiring an in-house team that needs a constant flow of work to justify their value. 
To meet the pressures of life and have control over their professional development, a greater number of talented professionals are now signing up on various platforms like Upwork, Freelancer and Guru. 
In fact it is projected that by the end of the year 2027, the majority of workers in the USA will be independent contractors or freelancers. 
Who can make money on Upwork?
In Upwork's last quarterly report of 2019, the fastest growing skills that had consistent demand for work were laid out. 
Now, there were 100 of them, so we'll just be selective for now to highlight how diverse and varied the in-demand skills are.
AutoCAD

Bookkeeping

Infographics

Interior Designs

Interviewing

Lead Generation

Presentations

SEO writing

Slack

Video Post Editing

Virtual Assistants
Essentially if you can complete the piece of work on a computer, it's likely to featured in some capacity on Upwork.
It's this mass and diverse demand that makes Upwork and other freelancing platforms perfect if you're looking to try a side hustle alongside your full time job.
What makes a great Upwork profile?
So that you know not to feel intimidated we'll run through the basics of setting up your profile.
Creating a well rounded and detailed Upwork profile will allow you to grab the attention of a greater number of potential clients. And it starts on the first page by declaring your intentions.
On Upwork, you will find two profiles types depending on whether you want to make money or commission work. One is a freelancer profile (work) and another is the client profile (hire). For freelancing, choose the "Work" button. 
You'll then be prompted to complete a small list of sections that populate your profile. 
Most sections are self explanatory, focussing mainly on information that will support your your claims.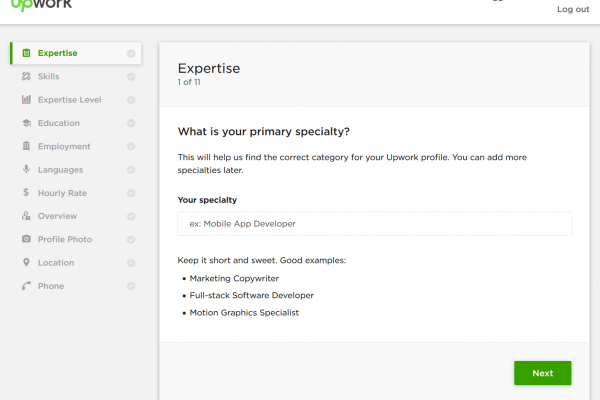 Add a professional profile picture: The image should be a headshot, well-centered and with good focus. Always use an environment that is well lit and aim for a plain background. The side of the brick building and concrete, or sometimes an outdoor background, can also work great. 
Add a clear title: try to use simple easy to understand descriptions you need to be quite precise about your niche. you can use key phrases and keywords while describing your skills. 
Add an introductory video: If you can, producing a short introductory video has proven to increase your chances of attracting more attention. It also helps cultivate trust. Keep it to around 1 minute long and In the video, clearly describe your skills, work experiences, projects you have completed, and more. conclude it with a call to action asking clients to check out your profile. 
Relate your skills to desired business goals within your overview section
Get creative with your skills: You should list around five to 10 skills. If you have some skills that can't be shown visually, then implement some creative ways to explain them. Upwork offers different skill-based tests. Take the tests to increase your credibility. 
Don't forget to keep updating your portfolio regularly with your latest achievements. Include samples of your recent work to enable clients to get to know your capabilities and what you are able to deliver.
Add certifications earned outside of Upwork to support your profile claims. Be mindful, if you're working in a second language, clients might look for language skills
Set an honest hourly rate: Jobs are assigned either on a per job basis or an hourly rate. As you are responsible for setting your own hourly rate its commonly seen that new freelancers undervalue their own self worth and are reluctant to. Whilst there is no incorrect hourly rate make sure that it reflects your skills and experience. Time tracking facilities are also built into UpWork to allow you to provide evidence of time investing into a task. 
Once you have fully populated all fields in your profile,and have approved by Upwork before you can bid for jobs. This is normal and usually takes around 24 hours for your application to be reviewed. 
Before fixing your hourly rate, remember to calculate the hourly rate or price per job using any rate calculator. This one is from The Freelance Effect. 
This way, you can cover your cost while reflecting on the level of talent and skills that you bring to the table. 
How do you land a job on Upwork?
Your profile works as a resume for the employers. 
If you get a job and fail to deliver on time due to a lack of claimed skills, then your account can be closed or put on hold.
After submitting all the information, Upwork will take 24 hours to verify your profile. Once it gets approved, you can start getting work. 
If following your profile review Upwork have no clarifying questions you'll be able to bid for work and clients will also be able to reach out directly to you. 
However to give yourself the best chance of success you'll be the one actively seeking work by bidding for new jobs.
A token system is used to connect freelancers with companies that are offering jobs. 
Upwork will start you off with some tokens after approval of your profile.
When browsing for work, if you feel like a particular proposal suits your skillset really well and you'd like to submit interest for. 
Your proposal may include the introductory letter, your fees, and few answers to the questions that clients asked.  Don't hesitate to send your work samples to them to increase the chances of getting the job. Before submitting your proposal, always check the client's reputation to avoid any potential risks. 
Tip! Don't forget to write a unique cover letter for every new job you express interest in. With this, the client will know think that you are paying attention to the project. 
Be willing to start with low-paying assignments 
Upwork and many of the freelancing platforms are about the long game so expectations should be reigned in.
Understandably top dollar goes to those who have proven themselves to a point where their skills are in demand. The platform has a lot of freelancers who have established track records and are ready to take work for less pay. 
Don't be disheartened by being unable to realise your earning potential straight away, this is normal to begin with.
Clients are far more likely to give lower risk projects to newly established profiles 

You can start working by applying for jobs that are less than USD 50. 

make sure they are clients having positive feedbacks from the freelancers. 

Do at least 5 to 10 projects, and then you can apply for the job with better pay. 

It is always a good idea to take baby steps before taking a big move. 
Understand the charges
As a freelancer in Upwork, you need to pay between 5 and 20% of your earnings as a service fee based on the lifetime billings with a particular client. 
As per the rule, you will have to pay a 20 percent service fee for your first USD 500 billed with a client. 
Then there for USD 500 to USD 10,000, you will have to pay a 10 percent service charge. 
However, if the total billing with that particular client reaches USD 10,000 and more, then you will give a 5 percent service fee. 
This tiered system of service charges encourages loyalty to create a better experience for both the client and writer. 
Upwork says the pricing model will incentivize the higher value and long-term projects. 
Don't worry about pricing in the early stages. Sometimes you need to sell yourself short when starting out to show clients the value that you offer. This way, you can develop trust and respect in the long-term.
The above-mentioned points may feel like little overwhelming if you are new to this platform. However, there is one important thing to focus on for getting Upwork jobs. 
While applying to work, carefully read the work description and always replay to everything. 
Some freelancers aren't even close to replaying what they want. So, answer everything to increase your chances of being hired for the job. So, go on, join Upwork and make it as your Side hustle from home. 
When, if ever, might it be good etiquette to take notes into an interview, and how can you avoid creating a bad impression? We summarise our...
Read More
When completing a job application or updating your resume - how liberal can you be when describing your past employment before it counts against you?
Read More