8 Top Humidifiers For Houseplants (Home Made Jungle Atmosphere)
If you buy something using the retail links in our articles, sometimes we earn a small affiliate commission. This does not impact the products we recommend.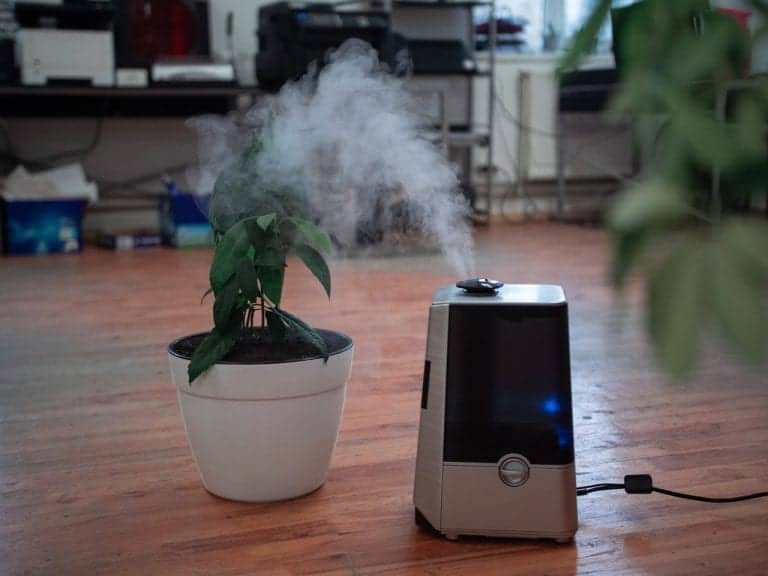 If you're a lover of tropical houseplants, then adding a humidifier amongst your foliage could be the move that takes your plants for barley surviving to thriving! 
Many houseplants have naturally evolved to grow in conditions of high humidity and can suffer and even perish when exposed to low levels of water vapor in the atmosphere.
Just a 10% swing in humidity can make all the difference between a plant just surviving and one that is doing well. Orchids for example grow best in a humidity of between 50% -70% which is difficult to achieve if you live in a warm dry state such as Arizona, where humidity regularly dips to 10% and below at the height of summer.
Low humidity can also negatively affect your own health in a manner of ways.
A humidifier such as the Elchomes Ultrasonic is a handy piece of kit as it puts you in control of the concentration of water vapor in air surrounding your houseplants, and create the optimal humidity in each of your rooms. By doing so you can establish the ideal conditions to allow your indoor plants to thrive.
Finding the best humidifier for your houseplant setup is important if you wish to reap as full benefit from its use. We save you the trouble of finding a top-performing unit by researching and recommending a few models below, so be sure to read on to find the best humidifier for your house plants.
Elechomes
Ultrasonic Humidifier
Superior ABS material goes into the construction of this humidifier making it very durable and sets you up to serve you for many years. It is made for larger rooms (up to 755 ft2) and is equipped with a 5.5-liter water tank that can last for 40 hours without needing topped up. 
The Elechomes Ultrasonic humidifier also operates quietly with noise levels between 20-32 dB. As such, it is perfectly suited for nighttime use. With an output of 600ml/h, this unit guarantees 40-60% air humidity providing enough moisture for your house plants to grow!
It has both cool and warm mist capabilities, making it ideal for plants in both summer and winter seasons.
MOVTIP
Mini USB Humidifier
As well use this unit to keep the air around your desk humid, or alternatively put it to use in your car as it's a portable unit that gets its electrical power needs via a USB cable! 
Since it is a highly portable unit, it only has a 240ml tank capacity. It is, therefore, ideal for to provide for desktop or office plants.
Its operational noise is below 30 dB, making it one of the quietest humidifiers on the market and it produces 35ml of mist each hour. Despite the small tank the MOVTIP mini humidifier can last for 8 hours without needing refilled. As an added feature the unit emits color from 7 color-changing LED lights.
What's more, it auto-shuts off when it runs out of the water to protect itself against damage. This guarantees durability. The unit also comes backed by a 1-year limited warranty and 30 days money-back guarantee. The customer support is also available 24/7, which makes it a great return on investment!
LEVIOT
Humidifier For Large Rooms
This is no ordinary humidifier as it allows you to serve both warm or cool mist, making it ideal for use in all seasons.
It comes with a remote control to help you precisely customize the humidity in your rooms allowing you to play about and test the percentage at which your plant collection responds best. 
The LEVIOT humidifier for large rooms has a massive 6 liter water tank and can serve a room with an area of 753 ft2 (70 m2) for up to 36 hours. This makes it the best unit on the list for houseplants in larger rooms such as hallways.
 Quiet operation is another benefit that comes with this unit meaning your plants can benefit through the night without a noisy racket being caused.
The tank has a wide opening that lets you clean it with ease and if you wish you can also add essential oils to the built in aroma box to give your room a sweet scent. 
Honeywell
Cool Mist Humidifier
If you have a medium-sized room with houseplants, you might want to invest in the Honeywell HCM-710 humidifier. Despite its relatively small tank capacity the discrete unit can serve a 600 ft2 room for 36 hours, making it a great humidifier for your plants during the day and night. 
When night does fall, you can adjust the sound level of the motor into quiet mode as well as control the moisture output using the 2-speed setting.
Cleaning the water tank is simple since it has a wide opening, and the same opening also makes sure that you can easily refill the tank when it is empty.
The self-regulating evaporative feature comes in handy to offer 99.9% protection from mold growth. And this makes the humidifier very safe to use. As such, it is a great idea to invest in this humidifier.
Pure Enrichment
MistAire Ultrasonic Humidifier
One thing you might love about this humidifier is the simplistic design and the even simpler to use instructions. 
The unit only has a 1.5-liter tank however do not let the tank size fool you since this unit can efficiently serve rooms as large as 250 ft2!  
It can operate for 16 hours non-stop and is ideal for bedrooms, nurseries, and office spaces that might have houseplants.
An auto-shutoff feature kicks in when the tank is empty to save the unit and its users from any harm. 
Moreover it produces a soothing night light that compliments the whisper quiet operating volume.
Pure Guardian
Ultrasonic Cool Mist Humidifiers
It is incredible how this humidifier lasts for up to 70 hours on a single fill of its 1-gallon water tank! 
It is rated to be able to serve a 320 ft2 room and as such, it is a great investment for anyone with a small room such as a bedroom or a home office.
The Pure Guardian Ultrasonic Cool Mist Humidifier is a mold-fighting unit, thanks to its silver clean protection feature. Despite its small size if you opt for this humidifier you can add your favorite essential oil its inbuilt aroma box.
A low water level light indicates when you're supposed to refill the tank and a night light feature makes it a great addition to kids' rooms. Besides, it is completely safe to use as it automatically shuts off when the tank runs low on water.
Honeywell
Germ Free Cool Mist Humidifier
This humidifier uses UV technology to kill 99.9% of bacteria in water. As such, only clean, healthy moisture makes it into the atmosphere for you and the houseplants. 
Moving it from one room to another is a total breeze, thanks to the large, recessed tank handle. Also, the tank has a large opening that makes it easy to clean and refill when it is empty.
This unit maintains the humidity level between 40% and 60% to keep your houseplants happy and healthy. Furthermore, the evaporative technology makes sure that the 60% humidity threshold is never surpassed so your houseplants are exposed to a consistent moisture content. 
By increasing humidity static charges are reduced in intensity whilst congestion and coughs can be afforded temporary relief.
All these benefits that make the Honeywell Germ Free Cool Mist Humidifier a great investment.
Evergreen Pet Supplies
Reptile Fogger
The Evergreen Pet Supplies Reptile Fogger has a 2-liter tank that can run for a whole day on just a single fill of its tank. You can regulate the mist output using the adjustable control to achieve a 300ml/h humidification rate which is more than enough humidity to thrive! 
It has an adjustable hose ranging from 1.5 to 5 feet meaning that although this unit is designed to serve reptiles it can also perfectly hydrate any houseplants you keep in a terrarium.
And when the tank is out of the water, the humidifier will automatically stop. The auto-shutoff feature protects it from damage and this makes sure it will serve you for years.
What is a humidifier used for?
A humidifier is a gadget that adds more moisture into the surrounding air to prevent atmospheric dryness.
By moisture a humidifier increase the humidity to a point where conditions are favorable to many tropical houseplants, whilst at the same time helping prevent arid conditions from possibly causing  irritation of the skin and the respiratory system. 
Is warm mist or cool mist better for plants?
It all depends on the season of the year. To make sure that your houseplants have favorable atmospheric conditions for survival, be sure to use warm mist during winter months when it may be cold.
During the peak warmth of summer however, you can use cool mist without any negative effects.
We'll attempt to cover all the bases involved with misting your houseplants, particularly looking at why and how often you should plan to mist your foliage.
Read More
Houseplants with a chimeric variegation look stunning! In this article we explore if its possible to induce mutations that result in variegated plant.
Read More