Hi! We're Chris and Debbie.
Leveraging the professional expertise of our in-house writing team, Eden Indoors has expanded into a lively Home & Garden blog that explores and elevates the inner workings of the modern, work-from-home lifestyle. 
With this as the cornerstone of our content, we've also introduced diverse tips, life hacks, and qualified advice for additional household aspects, including chores, hobbies, and beyond. 
Our aim is to help you achieve more balance, structure, and improved flow throughout your abode and your life.
Taking time to invest in yourself and the way you work can result in surprising gains.
Hands up if you have ever found yourself considering staging an "all-nighter" in order to cram every last nugget of information in preparation for an exam,...
Lo-Fi music has many qualities which make it well suited to being a study soundtrack. What are they, and what benefits can you expect to receive?...
If you're going to be working from home, you'll be needing a place to do so. Just how this space is arranged and decorated can make all the difference.
Are you having trouble organizing your new L-shaped desk? Click here for some simple solutions to ace L-Shaped desk organization.
Are you distracted by noise coming through the door to your home office? Well, read about the simple ways to soundproof your home office door today!
Born out of frustration when one too many items in our own home offices started to play up, or we just couldn't find the right helpful information on the interwebs.
Rollerblade casters are a perfect addition to your office chair if you wish to protect your carpet or hardwood from damage. Here's our three top picks.
I spilled milk on my laptop! What should I do to save it? Here are some top tips on how to clean milk out of your...
The science of growing houseplants is sometimes also an art. Help your chances of plants growing big and strong by choosing the right houseplant for you.
Lithops plants can live for a very long time, but how long do they take to grow? How long can you expect to wait before your...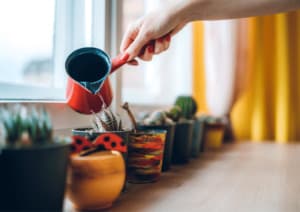 It's a little known fact that tap water can be bad for houseplants. So is distilled water a good replacement, or are there better options for...