7 Awesome Etsy Shops Selling Houseplants Online
If you buy something using the retail links in our articles, sometimes we earn a small affiliate commission. This does not impact the products we recommend.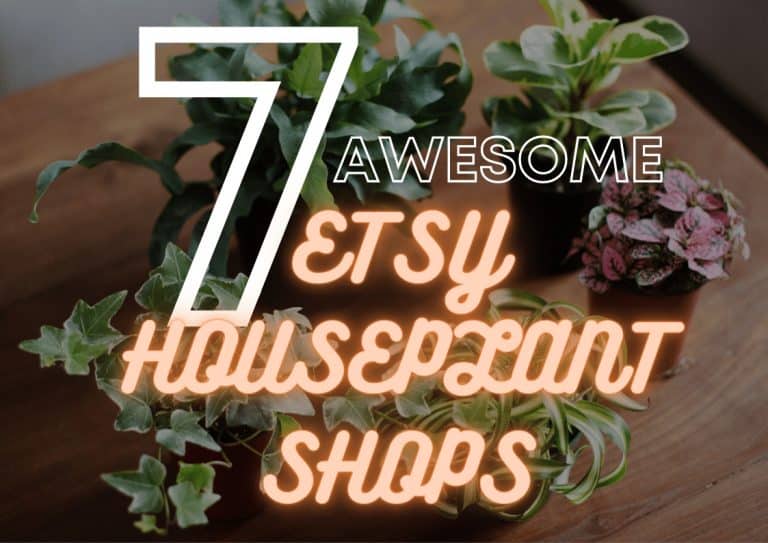 Buying plants online however has inherent risks. You can't see or touch the plant you're going to receive like you would in a traditional garden centre. Nor can you have much control over how the plant will be packaged to prevent damage during transit, or how the impact of the journey will affect the plant.
To support small businesses we tend to buy most of our house plants on Etsy, and thought it would be useful to share some of the best Etsy houseplant shops that we've found during our shopping trips.
Factors that make a special Etsy houseplant store include:
A demonstrated knowledge of houseplants
A varied plant selection
Plants organised into helpfully named categories
Proven good customer service
Experience on the Etsy platform
We've tried to spread the geographic range of shops on this list in the knowledge that the less time plants spend tucked away in a stuffy, dark, sealed box the better condition they'll be when arriving on your doorstep.
To be sure that our recommendations held up we also ordered a few new plants for ourselves.
This guide offers some recommendations on the best Etsy plant shops. If you want to learn about the rarest and most unusual houseplants sold on Etsy check out our full guide here. 

Why this Etsy store gets a thumbs up
The most experienced store on our list, Land of Alice has been offering a selection of plants for varying budgets since 2012.

A small shop with big reviews selling decorative house plants and planters. I love the way that the plants are arranged into useful categories like "Pet Safe", "Trailing" and "Low Light Plants". This acts like an instant directory for you to find the perfect plant for your home and needs.
Why this Etsy store gets a thumbs up
This is a gorgeous family run plant shop selling beautifully grown houseplants. Not only is their customer service great, but so is their Instagram! They share great tips and fun plant facts on there along with information on their plant donation days and adopt a plant events!
Why this Etsy store gets a thumbs up
Stupid Egg have a wide selection of plants (155 at last time of checking) for small spaces, large pots, hanging and trailing varieties, succulents and even exotic pineapple plants!

Helpful hints and tips point towards the best placement and care for each plant so you're sure to find one suitable for your home.
Why this Etsy store gets a thumbs up
What struck us most about shop owner Donna is that she is doing everything right in terms of plant health. Pretty Cactus is registered under the SRSF Plant Health regulation and they hold an up to date plant passport too. This is of huge importance right now as there is more and more strain on companies to do their bit in the protection of domestic horticulture and the prevention of harmful plant pests and diseases spreading during shipping. This, along with her friendly manner and lovely shop gave us the confidence to buy from her and support her flourishing business.

Being in operation since 2018, Pretty Cactus has amounted an impressive number of Etsy sales, over 20,000 in all, which clearly shows Donna and her team are doing something right. Definitely a strong candidate for the best houseplant store on Etsy UK. 

To fill the Elho pots on one of our monitor stands we ordered peace lilies and ficus benghalensis from Pretty Cactus and were extremely happy with the condition of the plants when they arrived. Great value for money too.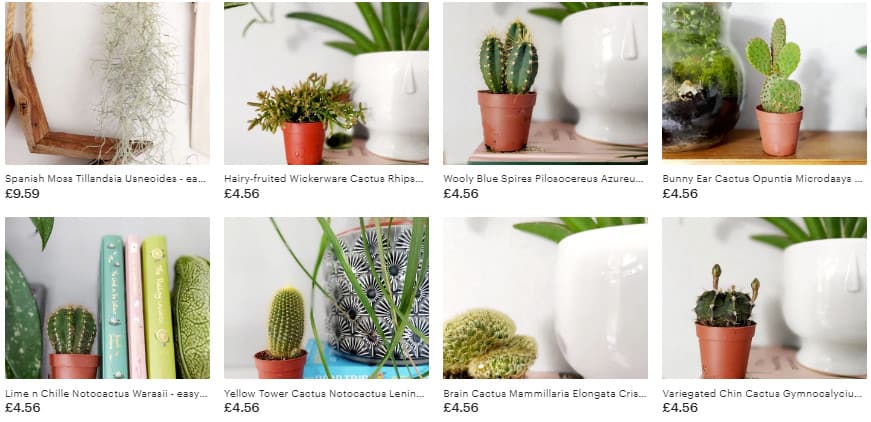 Why this Etsy store gets a thumbs up
A stunning shop selling a wide variety of houseplants. I love how well arranged this store is with each type of plant in its own category, it makes it super easy to find what you are looking for.



Why this Etsy store gets a thumbs up
Rebel Plants has racked up an impressive 11,000+ sales since opening their doors. Selling not only a nice range of large and small houseplants and accessories, but it's beautifully arranged with clear categories which makes it easy to shop. I love the terrarium and potting mixes they sell too. They would make brilliant and unusual gifts for plant lovers.
Why this Etsy store gets a thumbs up
Far more than just an Etsy store, Oliver and the crew at Plants for All Seasons do everything possible to create a fantastic shopping experience for their customers. From sourcing and growing unusual and rare plants to providing video content that compliments listings its clear these guys have your interests at heart.

Custom plant friendly packaging that has been developed in house and uses recycled material.
The Thai Constellation Monstera is a rare and highly sought-after houseplant with unique variegated leaves. This article explores the history, care, and propagation of this popular plant.
Are you struggling to tell the difference between Monstera Siltepecana and Epipremnum Pinnatum Cebu Blue? This article will help you identify and care for these two popular houseplants.